Description
I offer both Limited and Standard editions of my prints, alongside desktop and mobile wallpapers of my imagery. My Limited editions are available in limited quantities and comes numbered, signed, and accompanied by a distinctive digital token known as an NFT. You can view the NFT Collection here.
Opt for the Limited edition, and enjoy a 50% discount on your next Standard edition purchase for a limited time! The Limited editions also comes with other exclusive perks. Check the table below to see the differences between the Limited and Standard editions.
Limited Edition vs Standard Edition
| | | |
| --- | --- | --- |
| Feature | Limited Edition | Standard Edition |
| Signature | Hand-Signed by the Artist | None |
| Certificate of Authenticity (COA) | Yes, with QR code linking to NFT | None |
| NFT (Non-Fungible Token) | Included | Not Available |
| Edition Number | Numbered & Limited | Not Numbered (Open Print) |
| Additional Content | Full astronomical analysis & artist's notes | None |
| Size Variation | A2, A1, A0 | A2 and A1 only |
| Discounts on Future Purchases | 50% discount code on a standard edition print | None |
| Digital Extras | 4K digital wallpapers & phone wallpaper Bundle | None |
| Personalisation | Personalised message/note option available | None |
Both Limited and Standard editions are:
Printed on Canson Baryta Prestige II 340gsm — a glossy, museum-grade archival paper.
A Collaborative effort with a leading fine art printer in Melbourne ensures optimal quality.
Superior craftsmanship and quality.
Print only, framing is NOT included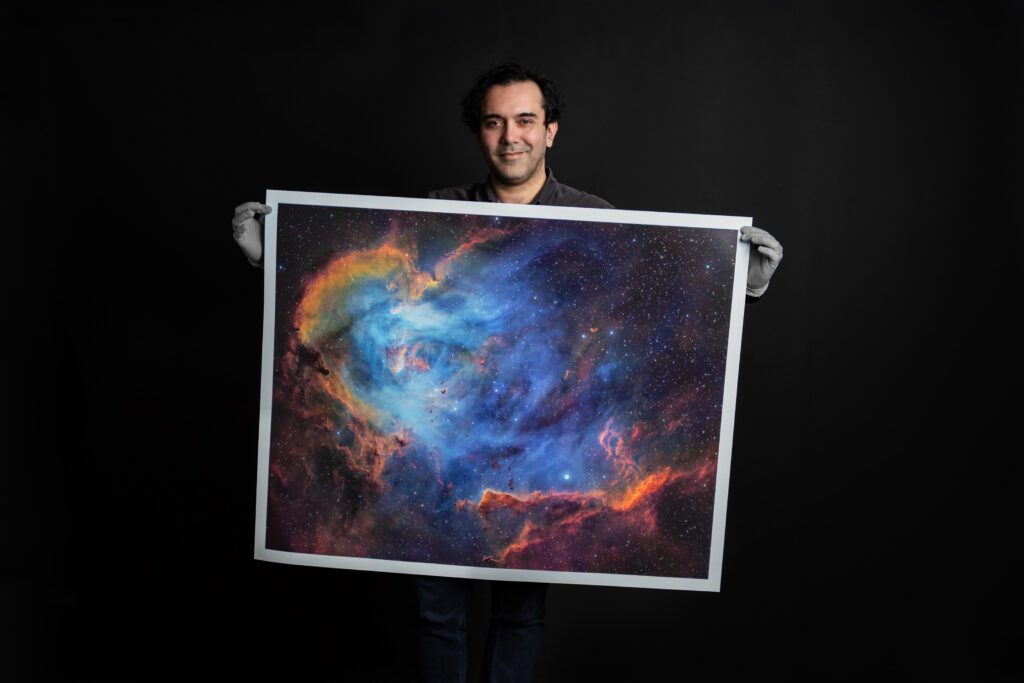 Limited Edition A0 Print | Sample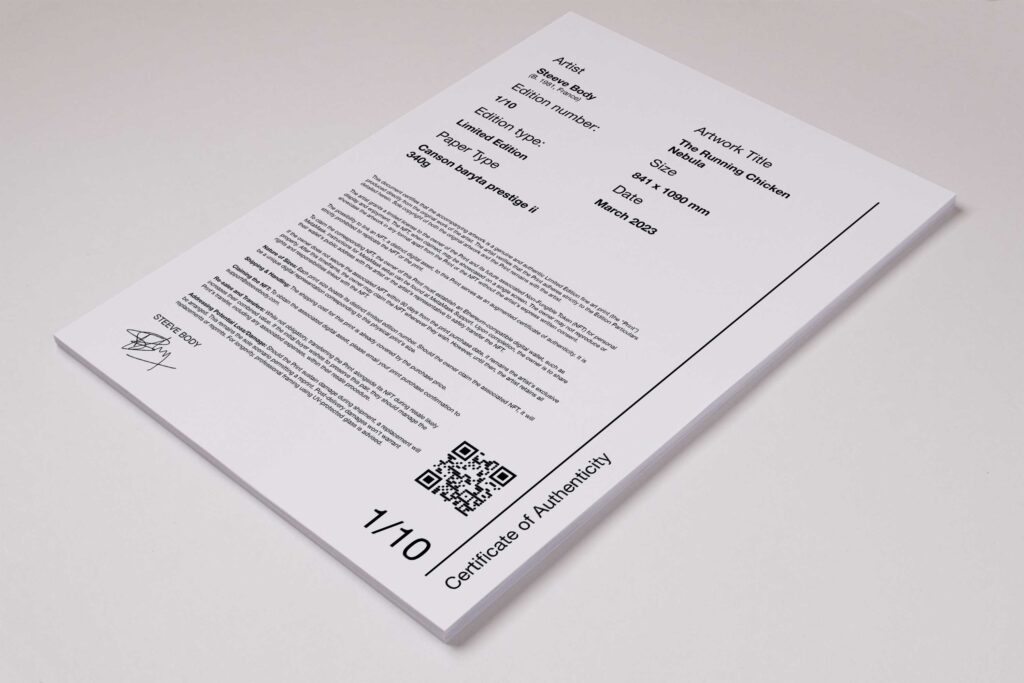 Limited edition Certificate of Authenticity with QR Code to the NFT | Sample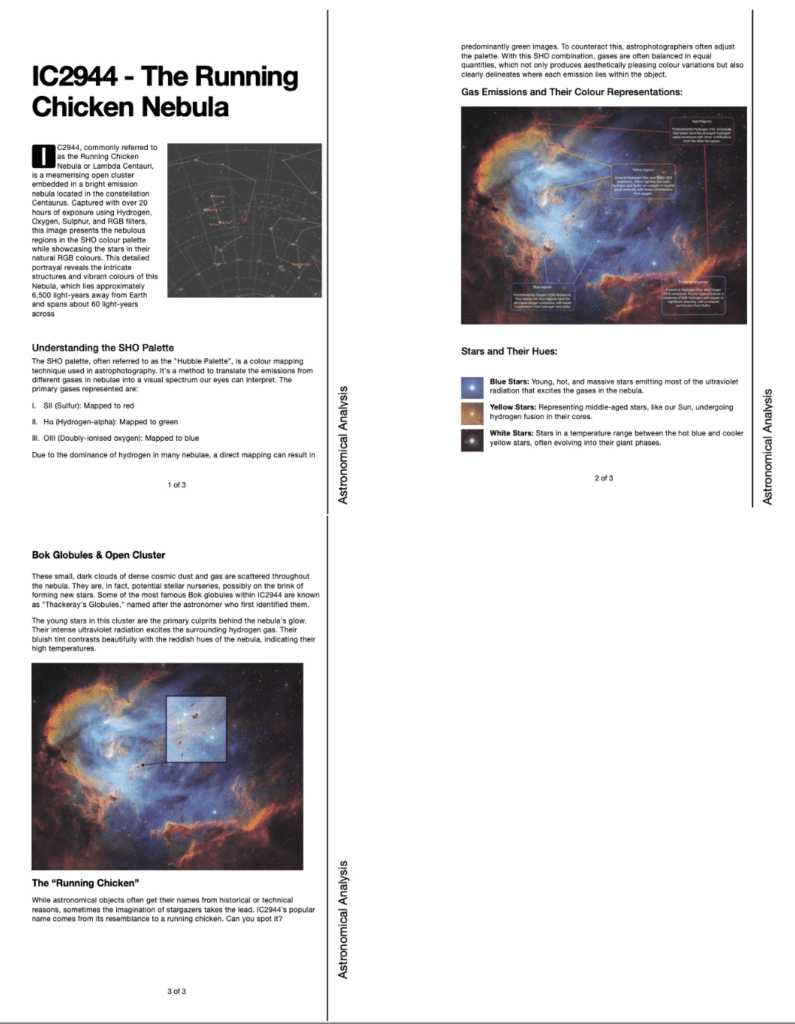 Limited edition Astronomical Analysis and Artist notes | Sample
NFT Authentication & Ownership (Limited Edition Only):
An NFT, which stands for Non-Fungible Token, is like a digital certificate of authenticity. Think of it as a unique 'stamp' that's stored online, confirming that a digital item or artwork is original and belongs to someone. Just like a rare baseball card or a limited-edition stamp, this digital 'stamp' cannot be copied or divided into smaller parts. Every NFT is logged on a digital ledger known as a blockchain, which keeps track of who owns it. This ensures that if you own an NFT, everyone can verify that it's yours and that it's genuine.
The accompanying NFT is a genuine certificate of authenticity for the limited edition fine art print.
This NFT is tied to the print and serves as a digital representation of its authenticity and ownership.
Sole copyright of both the artwork and the print remains with the artist.
Usage & Licensing:
The NFT grants a limited license for personal display.
Reproduction or showcasing beyond the physical print or the NFT is prohibited without express consent.
Claiming Your NFT:
To claim, set up an Ethereum-compatible digital wallet like MetaMask. Instructions can be found here.
Send your wallet's public address to

[email protected]

for a safe NFT transfer.
If unclaimed within 90 days, the NFT remains the artist's property but can be claimed at any time.
Special Requests:
Need a tailored size or unique installation? Reach out, and let's make it happen. I can print oversized on HD Metal which looks amazing in a galerie or an office.
Shipping:
Insured shipping. You're covered against damages or losses. (Calculated at Checkout)
Free shipping within Australia.
Tracking number provided once shipped.
Delivery Times:
Australia: 1-2 week for print production + 3-6 business days for delivery.
Major Global Destinations: 1-2 week for production + 8-12 business days for delivery.
Oceania & Other Countries: 1-2 week for production + Delivery can vary between 8-25 business days.
Note: I'm not accountable for carrier delays or any tax/duties upon arrival.
Packaging:
A2 prints: Sealed in clear archival Polly BOPP bags.
Larger sizes: Wrapped in buffered Acid-free tissue or Glassine.
Artwork Care:
Keep away from direct sunlight to ensure longevity.
Professional framing is recommended. Ask me for top framing services in Australia or advice on acrylic face mounting.
Framing recommendation (Framing not included):
Print dry mounted on acid free archival grade 5mm foam board
Black Boxed frame with spacers
UltraVue UV 70 glass or UltraVue UV 99 Museum glass
Metal Print comes with built in hangers so there is no need for framing.